Main content starts here, tab to start navigating
Slide 1 of 6
Slide 2 of 6
Slide 3 of 6
Slide 4 of 6
Slide 5 of 6
Slide 6 of 6
BIERGARTEN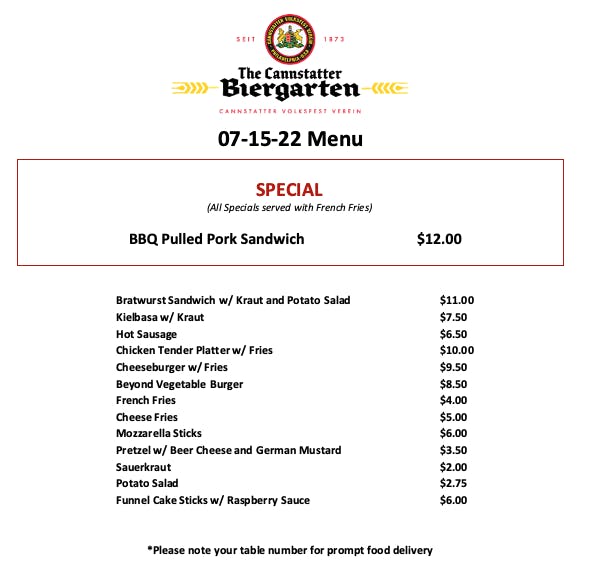 Cannstatter has the largest outdoor Biergarten in Northeast Philadelphia and is open every Friday and select Saturdays (April to October) from 5:00 – 10:00 pm
Live entertainment from 7:30 - 9:30 pm bringing you some of the best local bands and musicians.
Bring your entire family for a wonderful time in our picnic grove in a family-friendly atmosphere.
DRINKS
An extensive selection of German and domestic beers on tap plus bottled beer, mixed drinks, and wine.


German Beer, Craft Beer, Bottles, and Cans:
$6
Domestic Draft Beer:
$4
PITCHERS:
German Beer:
$16
Domestic Beer:
$13
Liter Mugs:
$16 for your first, beer included
Keep the mug and bring it back any time we're serving beer
$8 domestic refill, $10 import/craft refill

See our Events page for the full list of upcoming Biergarten entertainment.